The Library/ Media Center maintains a critical role in the student's intellectual development. The goal of the Library/ Media is to ensure that the students develop an appreciation for reading and become independent and effective users of information. Classes are scheduled for students in Grades K–3. The use of the Media Center for independent and group use is encouraged for students in Grades 4–8. Students are taught care of library books and materials. If books or materials are lost or damaged, the student is expected to pay for the item or items by the end of the grading period or grades may be withheld.
---
Book Fair
November 13, 14, &  15
---
Accelerated Reader Program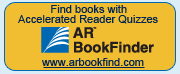 The Accelerated Reader (AR) program is a supplement to our classroom reading program. Students check out books to practice reading independently.  The students are asked to read these books during appropriate class time and to read each night. 
Our objectives for the AR program are:
to encourage students to independently read a variety of books of their own choice.
to have students grow in their reading ability.
to help students become comfortable using the computer to take AR tests.
to have students feel that they are a part of a community who enjoys and values reading.
We are stressing careful and thoughtful reading of each book.
AR Book Level Chart
Assigned Level*

AR Range**

Brown/Yellow  Handprint
0.5 – 1.2
Pink Handprint
1.3 – 1.9
Green Handprint
2.0 – 2.5
Purple Handprint
2.6 – 2.9
Blue Handprint
3.0 – 3.5
Orange Dot
3.6 – 3.9
Light Blue Dot
4.0 – 4.5
Bright Orange Dot
4.6 – 4.9
Red Dot
5.0 – 5.3
Navy Dot
5.4 – 5.8
Light Green Dot
5.9 – 6.1
Black Dot
6.2 – 6.4
Yellow Dot
6.5 – 6.9
Dark Green Dot
7.0 -10.0
*The Assigned Level is determined by periodic Star Reading Tests & teacher/librarian required criteria.
**Accelerated Reader (AR) Range uses the ATOS Book Levels which are reported using the ATOS readability formula and represent the difficulty of the text. For example, a book level of 4.5 means the text could likely be read independently by a student whose reading skills are at the level of a typical fourth grader during the fifth month of school.